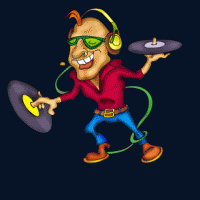 Ciao a tutti.
Mi chiamo Angelo Pilotta , vivo a Barrafranca - Sicilia (ITA), ho 28 anni, faccio il Dj da circa 12 anni non a livello professionale ma amatoriale...Da circa 5 - 6 anni sono passato al digitale e negli ultimi 3 anni al mixaggio VIDEO, la mia passione...
Tutto e iniziato come aiutante Dj ad un mio carissimo amico, Salvatore Guerreri (alias DJ End)
Ci sarebbe da riempire un foglio A3 per raccontare tutte le imprese, peripezie e serate che negli anni "90 facevamo assieme........
La mia esperienza da DiJ nasce con l'arrivo del primo software per mescolare musica nel 2002/3, una sorta di programma che aveva i comandi necessari, per far funzionare alla meglio due Mp3 a tempo, con 5 effetti audio tra cui compresi uno con 4 funzioni loop e che dire, una spece di carretto....
Dopo l'acquisto della mia prima dj console della Hecules trovai nella scatola Virtual dj 1,09 e così conobbi questo programma che all'epoca era un carretto col cavallo, qualcosa di più professionale paragonandolo con l'altro che utilizzavo...La fortuna fu che dopo neanche un anno di utilizzo della consolle riscontrai un difetto, con riscontro positivo, la sostituzione con la appena uscita dj console mk2 che al suo interno conteneva un disco con la versione 3.0 che già comprendeva la funzione Video un balzo di qualità...
A questo punto si tolgono i vari Dj (Disc Jockey) DiJ (Digitaljockey) e si passa a Vj (Video Jockey)
la sigla ideale per chi come me fa video mix....Senza discriminare i nomi dei mie colleghi che mixano i video.......
Nel 2006 arriva ADSL una cosa favolosa internet a disposizione e l'aquisto della licenza Virtual Dj.
Dopo questo salto di qualità posso dire che sono il primo Video Jockey (Vj) del centro Sicilia per non dire di tutta l'isola.....

Vorrei fare un particolare ringraziamento a Cravotta Salvatore e Viola Marco per avermi fornito alcune versioni demo di software per il mixaggio di file musicali da me richiesti per mancanza di collegamneto a internet, accendendo in me quella passione verso il mixaggio digitale.
Continuando con i ringraziamenti non posso dimenticare a, La Quatra Ignazio e Collura Salvatore per avermi aiutato nel campo informatico e che dire, ringrazio anche tutti coloro che hanno creduto in me e mi hanno aiutato e sostenuto...
Grazie mille a tutti


Vj Angelo

=>>Musica Per I Vostri Occhi<<=

Data
22-10-2008
. [ENG] KARAOKE TUTORIALS
Tue 21 Oct 08 @ 5:20 pm
Karaoke Tutorials
It's important to know that Virtual DJ handles only CDG files (audio +video) and no KAR files (midi + text).
The difference is that the CDG files have a higher quality because they are true musical bases, instead of KAR files,
CDG also can be: MP3 WAV + G + G + G WMA.
It 'important to know that for more convenience, these files can be « zipped ».
...................................
Inside the Browser Virtual DJ, Karaoke files are displayed in this way.
The "K" means that the desired file is a karaoke file..
This is the vision of the Virtual DJ Browser (version 4.3).................................................This is the vision of the Virtual DJ Browser (version 5.x)
.........................................
In the folder where the karaoke files are stocked, we always find two different files
The first one is an MP3 file and the second one, a CDG file.
-The Mp3-file is the basis of the song ..... .
-The CDG file is a kind of library which contains the words of the song .......
The two files can be renamed, it is just important for this two files to have the same name (like in the picture)
because if the two files are named in a different way or are not in the same folder, VirtualDJ will only play the musical file.
It won't display the words to sing, or even nothing on the browser .....
__ __ __ __ __
When you'll load the file there will be no image displayed
Clicking on Video ( "A"), images will appear......
Some skins do not have this button, to solve this problem, press the Config Button ( "B")
and open the settings window.
There, you'll tick ACTIVATE
A Click on OK and we have displayed the words of Karaoke file
Right now we are not able to project images yet,
the program is in the defalut mode (Window)
The only solution is to adjust the video card and create an Extended Desktop
or with a graphic card or an ATI Radeon video card.
Choose the in the Settings / Video drop-down menu the the computer's video card
In this manner the "VirtualDJ Video" window will close and will get the signal of the VGA port
Allowing us to connect the projector ....
Then you will want to make the TITLER effect more beautiful
which adds the title of the song automatically
and the ShowLogo v2 video effect that allows you to insert an self-created image (like a TV logo)
After that, I think that's all .............
Good Karaoke evenings to everyone .........
Last important advice
when you want to organise a karaoke night and sing, do not forget the mentos .............
Cious
=> Vj Angelo <=
Musica
per
i
vostri
Occhi
Translated by
DjMorpheo22