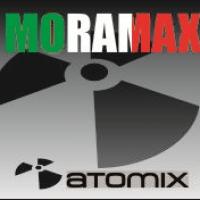 La mia "gavetta" nel mondo della disco nasce per gioco spinta dalla mia profonda passione per la musica che mi porta nel lontano 1987 a condurre la mie prime serate da professionista.
Anche la radio, che mi vedeva impegnato in programmi vari dal '89 al '96, mi ha aiutato a far crescere la mia grande passione.
-------------------------------------------------------------------------------------------------------------------------
-------------------------------------------------------------------------------------------------------------------------
Wed 26 Oct 11 @ 1:13 pm
Virtualdj can read the id3 tags of the beat port files.
this is an example:
1005985_The_Rhythm_Format_B_Remix.mp3------------->tipical file name of beat port
this is the file info: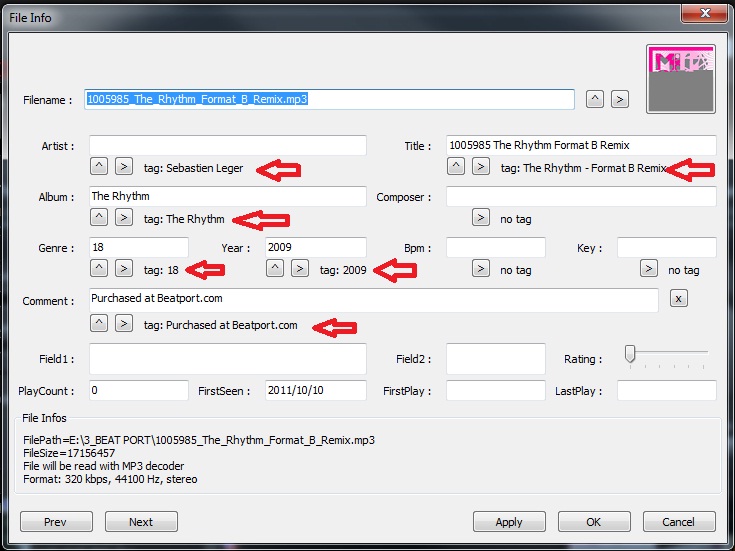 (IMAGE 1)
There are not problems for tags on Itunes m4a files: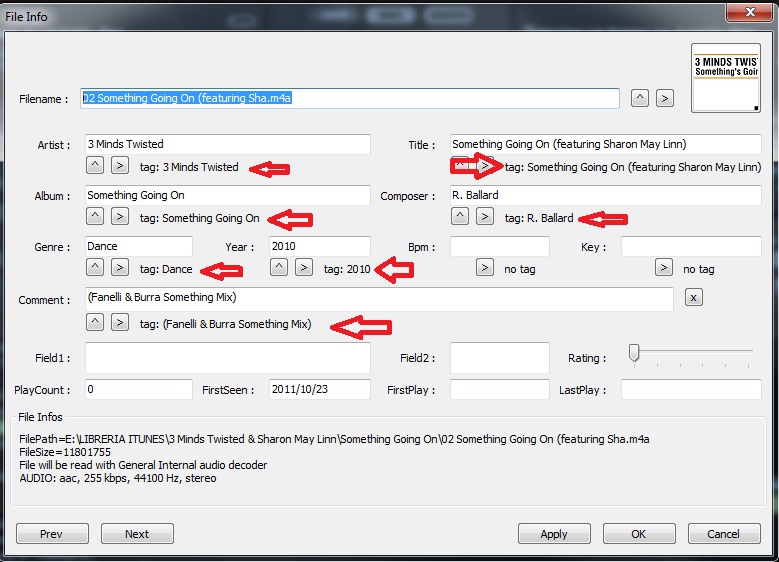 (IMAGE 2)
The problem should be that the user has this configuration:

(IMAGE 3)
and not this:

(IMAGE 4)
remember that Virtualdj does not update the informations on his own database from the id3 tag automatically.
It's required forced by the user.
thera are this conditions:
1) The user has disabled the id3 read (picture 1), the datas are from the filename and store on the Virtualdj database.
If the user in a second time switch the software to read id3 tag , the previous datas loaded on the Virtualdj database are still the same(image 5).It's required to reload the tags (image 6)

(IMAGE 5)

(image 6)
2)The User change the tags information using an external program (itunes, tag&rename, ecc). Again the datas of stored in the database are still not updated from the new tags modified. To update the tag is required to reload the tags again(image 6)
why Virtualdj is build with this system?
Virtualdj use is own database to store datas and it used also by the search engine.
With this system the search engine of Virtualdj is very fast (more fast of the competitor software)
it does not read every time informations from the tags ( automatically only the first time that a song is added to the database and it's abilitate to read id3 tag image 4), one time the song is added to the database from there onwards virtualdj use the xml datas.
Usually when a song is tagged, the user not make subsequent changes.
So this method is convenient, rather than having a very slow browser because each time the browser has to reload automatically tags.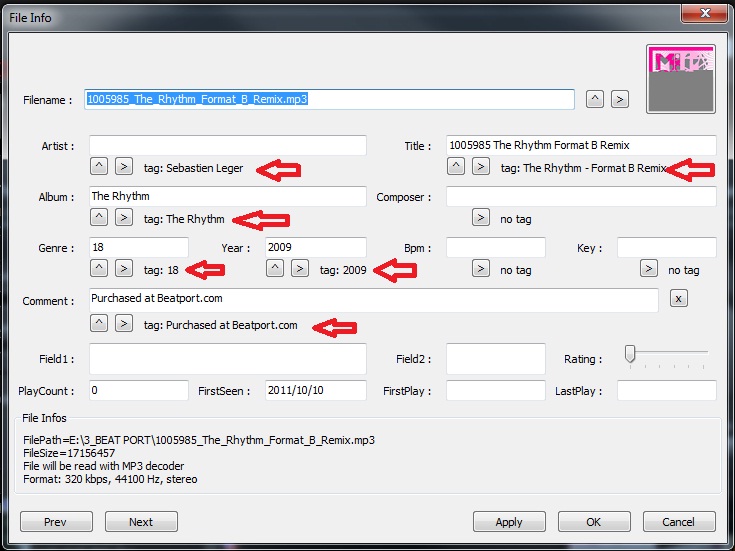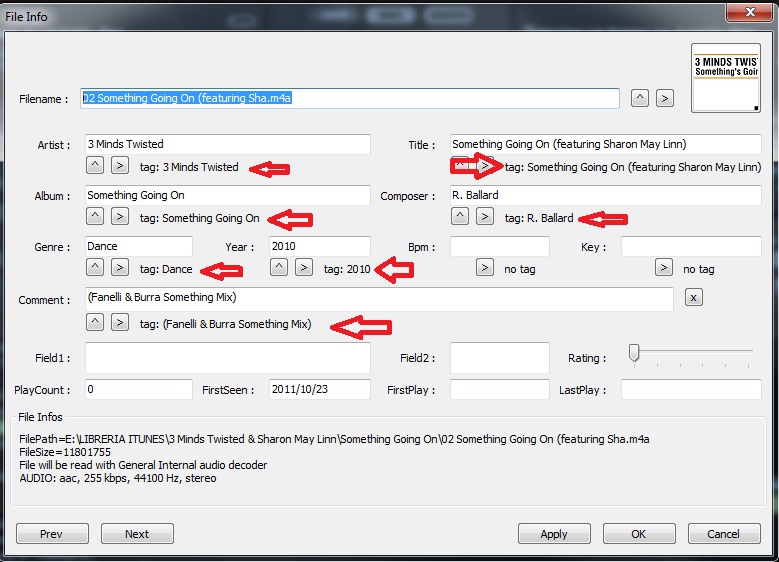 Fri 23 Jan 09 @ 5:46 pm
Il livello dell' uscita delle comunissime schede audio spesso non è sufficiente per avere un generoso volume in cuffie.
Molti utenti lamentano questo problema. Mi è venuta l' idea di realizzare un breve tutorial per realizzare un' amplificatore low cost per cuffie.
Il progetto è molto semplice anche se richiede un minimo di esperienza con l' utilizzo del saldatore.
Il tutorial è in fase di realizzazione e prossimamente seguiranno altri dettagli. Intanto con queste prime immagini potete farvi un idea del progetto.Partendo da una comunissima cassa amplificata per pc tipo questa: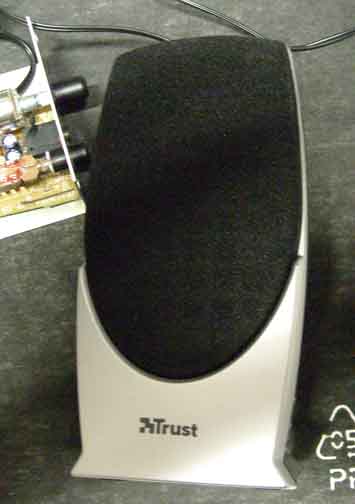 Quindi si smonta l' elettronica interna. Si tagliano e si isolano bene i cablaggi che portano il segnale alle casse.
Acquistare in un normalissimo negozio di elettronica una scatoletta di adeguate dimensioni quindi forare e fissare la scheda usando normalissime torrette pr pc. Fissare anche l' alimentatore della schedine con 2 viti e dado.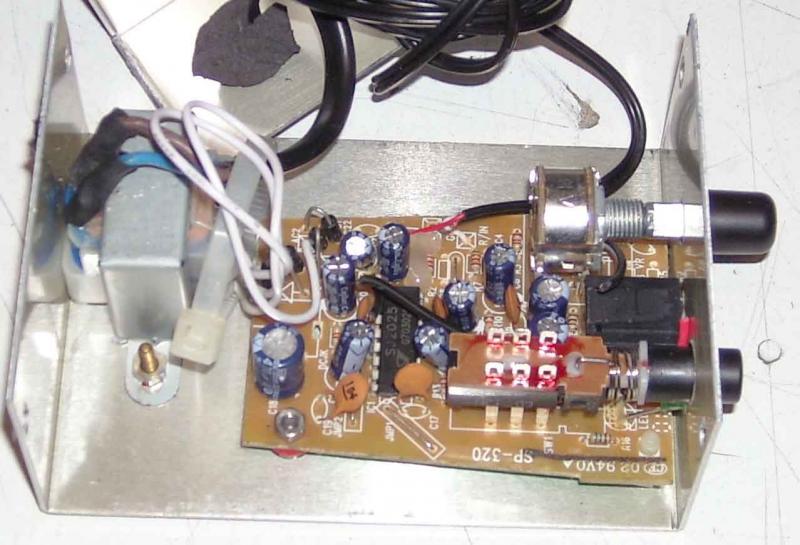 Così si presenta il prodotto assemblato e finito. Si può notare la presa per cuffia, il tasto on/off, il led di segnalzione e il potenziomentro di regolazione del volume, il jack di connessione alla sorgente del segnale da amplificare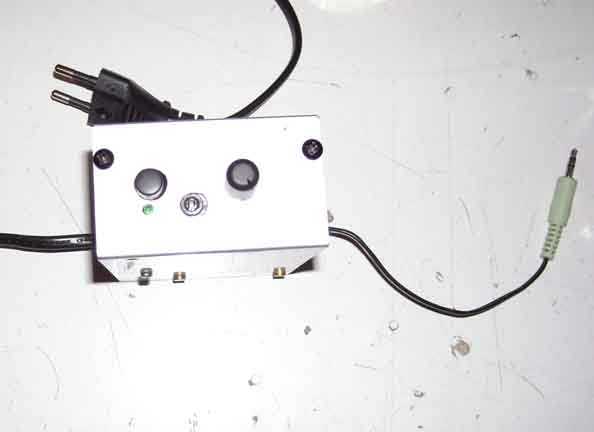 Ecco il risultato finale con l' amplificatore collegato in serie ad una scheda Numark dj/io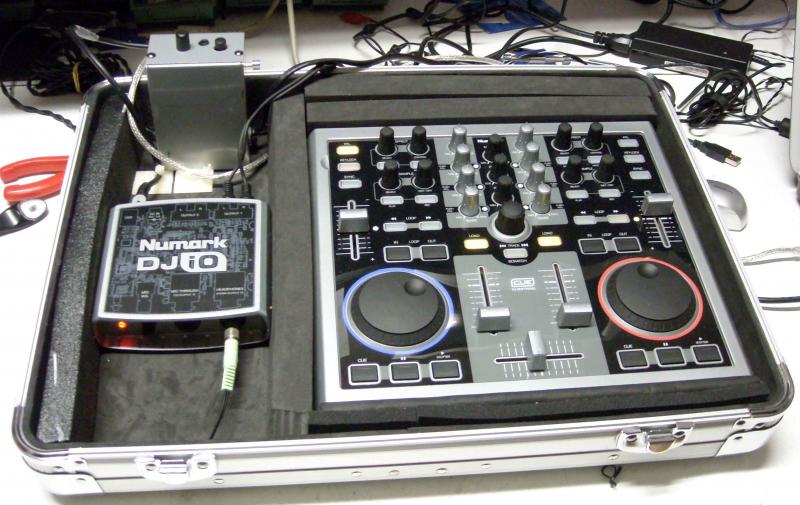 Thu 26 Apr 07 @ 6:55 pm
ENGLISH
the signal output of many cd players is too hight for Hercules dj console inputs.
There is a solution for this problem, Just insert a resistor or trimmer to dercrease the signal . With this solution you resolve the distorsion problem.
components required:
-4 trimmers value 4,7K(it's better multiturn trimmer)
-1 meter of shield cable
-8 male rca connectors (4 black, 4 red)
-multi hole pcb(pcb for sperimental assembling)
You can also use a "multi hole" pcb to soldering the trimmers and to get a more stable assembling.
Don't worry about the wattage of trimmer becuse we're working in bf that is low
signal.
After you have assembled this device you have to regulate the trimmer to get
the right level and equal for each channel.
i'll do a special wav or mp3 to burn an a cd that help you to make that regulation.
REMEMBER, WE ARE NOT RESPONSABLE IF YOU DAMAGE YOUR EQUIPMENT!!
if you're not pratics, ask help to a friends or other that he is more pratics with soldering and assembling.
ITALIANO
Molti lettori cd forniscono un segnale d'uscita troppo elevato che manda in saturazione gli ingressi della djconsole MK2. Il riusultato finale è che avremo un uscita sporca e distorta.
Per risolvere il problema basta costruirsi un attenuatore di segnale.
Di seguito vi elenco i componenti necessari:
-4 trimmers valore 4,7K(meglio se multigiri)
-1 metro di cavo schermato per bf
-una basetta multifori
La basetta multifori la si puo impiegare per saldare i trimmers per dare una struttura più solida all' assemblaggio.
Il wattaggio non e' importante i normalisimi trimmere sono sufficiente per sopportare le potenze in gioco in quanto si tratta di segnale debole.
RICORDA CHE NON CI RITENIAMO RESPONSABILI PER EVENTUALI DANNI ALLA TUA ATTREZZATURA
Il circuito è molto semplice ma se hai poca esperienza nell' assemblaggio e saldatura consigliamo di rivolgervi a mani piu' esperte.
Sat 11 Mar 06 @ 11:08 pm
--------------------------------------------------------------------------------------------------------------------------
DJ dal 1987 propone: disco 70/80 (casino sound), house, commerciale, caraibici con animazione.
Dove? In disco, al bar, in spiaggia,in piazza insomma….. dove vuoi tu!!!!
La mia "gavetta" nel mondo della disco nasce per gioco spinta dalla mia profonda passione per la musica che mi porta nel lontano 1987 a condurre la mie prime serate da professionista.
Anche la radio, che mi vedeva impegnato in programmi vari dal '89 al '96, mi ha aiutato a far crescere la mia grande passione.
-------------------------------------------------------------------------------------------------------------------------
-------------------------------------------------------------------------------------------------------------------------
DJ from 1987 proposes: disco 70/80 (casino sound), house, caraibic with animation. Where? In disco, to the bar, in beach, public square ..... where you want!!!! My passion in the world of the disco was born for game pushed from my deep passion for the music. In 1987 started my first professional night. Also the radio, than to me saw several engaged in programs from the' 89 to the' 96, has helped to make me to grow my great passion.
--------------------------------------------------------------------------------------------------------------------------
contatti/conctats
email: maxmora@fastwebnet.it
messenger: moramax@libero.it
skype: moramax
Sat 11 Mar 06 @ 10:03 pm
--------------------------------------------------------------------------------------------------------------------------
--------------------------------------------------------------------------------------------------------------------------
VERSIONE IN ITALIANO
Il problema dei rumori di fondo abbinato all' uso di strumentazione digitale e personal computer è un fenomeno non voluto piuttosto ricorrente.
Infatti può capitare, in particolare utilizzando i pc portatili, il verificarsi di fastidiosi rumori di fondo nell' uscita audio come ronzii, rumore di alternata, friggitura ect.
Il problema si evidenza maggiormente nei locali, discoteche, feste in piazza ect dove a causa della presenza di molti cablaggi, apparecchiature e le alte potenze in gioco si creano i famosi ground loop.
Per poter diagnosticare il problema è importante individuare la possibili fonti che lo generano e quindi sapere distinguere le tipologie di rumore che si possono presentare:


Impulsivi: cioe' che vanno e vengono generalmente generati da luci sequenziali, strobo, scanner ect


Fissi: li senti sempre generalmente generati da amplificatori, strumentazione, luci fisse, mixer ect


Friggitura: cioe rumori casuali che vanno e vengono ma non ripetuti in modo sistematico, questi normalmente vengono generati da cattive connesioni di rete. Le principali responsabili sono le ciabatte vecchie e usurate che generano falsi contatti.
Ho stilato una serie di consigli utili per aiutarvi a risolvere questo tipo di inconveniente nella maniera più rapida ed economica:
1)Se si utilizza un pc portatile, eliminare il pin centrale(la terra), del cavo di alimentazione dell' alimentatore. Quindi fare qualche test per verificare l' assenza di rumore di fondo. Talvolta questa operazione è sufficiente per risolvere. In caso negativo proseguire con gli altri punti del tutorial.Se non si vuole evitare di rovinare la spina del pc vi consiglio di realizzare un adattatore "no-ground":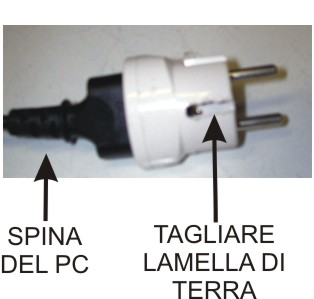 2)Preparare una ciabatta eliminando dalla spina il collegamento di terra( il pin centrale) aiutandosi di un tronchere o un seghetto. Questa ciabattta d' ora in poi verrà chiamata CIABATTA1;
3)Procurarsi un'altra ciabatta normale, d'ora in poi chiamata CIABATTA2;
4)Collegate l'alimentatore del pc portatile esclusivamente alla CIABATTA1;
5)Accendere il mixer esterno(se usate questa configurazione), abilitare tutti i preascolti dei canali in uso. Regolare i gain di canale al massimo, regolare al massimo anche i controlli di tono(high, mid, low).Questa operazione serve per amplificare i rumori fondo ed il tipico soffio che comunque deve essere molto basso.
6)Con le cuffie in testa ed ascoltando molto bene l' uscita, inserite nella CIABATTA2, in sequenza tutte le altre spine del vostro setup(lettori cdj, schede audio, hard disk, ect...).E' importante farlo in sequenza, cioe' uno dopo l'altro, e in contemporanea ascoltare in cuffia se si verifica un rumore. Nel caso in cui dopo avere inserito una spina ed quindi alimentato l'apparato vien generato un ronzio di fondo, allora bisogna provare a collegare la spina interessata alla CIABATTA1.
Ripetere l'operazione per tutta la strumentazione
7)Talvolta capita che, nonostante la procedura appena descritta, il problema del ronzio ronzio non si risolve. Rimane una sola cosa da fare. Dovete aquistare un separatore di massa-hum destroyer tipo questo:
http://www.behringer.com/HD400/index.cfm?lang=ENG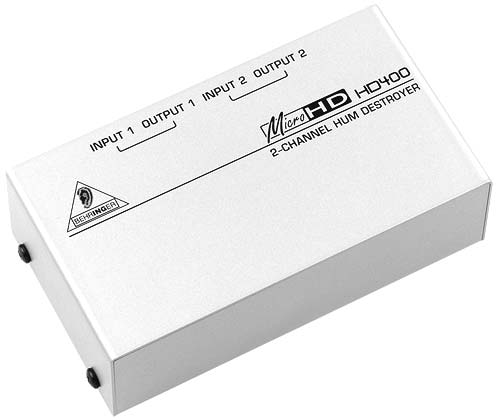 Questo dispositivo ha due ingressi e uscite mono. Collegare in cascata il dispositivo tra il mixer e l'amplificazione e ripetere le operazioni dal punto1.
8)Ricordate che fonte di disturbi sono spesso le luci, tipo i par, strobo ma in particolare le luci alogene.
9)A fine operazione ricordarsi di portare in posizione centrale i gain, guadagni e toni.
Spero di essere stato utile a tutti,
buon lavoro e buon sound!!!
Max Mora