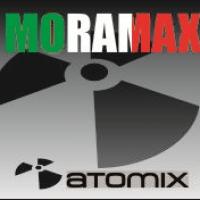 La mia "gavetta" nel mondo della disco nasce per gioco spinta dalla mia profonda passione per la musica che mi porta nel lontano 1987 a condurre la mie prime serate da professionista.
Anche la radio, che mi vedeva impegnato in programmi vari dal '89 al '96, mi ha aiutato a far crescere la mia grande passione.
-------------------------------------------------------------------------------------------------------------------------
-------------------------------------------------------------------------------------------------------------------------
Signal Attenuator for djconsole MK2/RMX (to eliminate distorsions using cdj player)
Thu 26 Apr 07 @ 6:55 pm
ENGLISH
the signal output of many cd players is too hight for Hercules dj console inputs.
There is a solution for this problem, Just insert a resistor or trimmer to dercrease the signal . With this solution you resolve the distorsion problem.
components required:
-4 trimmers value 4,7K(it's better multiturn trimmer)
-1 meter of shield cable
-8 male rca connectors (4 black, 4 red)
-multi hole pcb(pcb for sperimental assembling)
You can also use a "multi hole" pcb to soldering the trimmers and to get a more stable assembling.
Don't worry about the wattage of trimmer becuse we're working in bf that is low
signal.
After you have assembled this device you have to regulate the trimmer to get
the right level and equal for each channel.
i'll do a special wav or mp3 to burn an a cd that help you to make that regulation.
REMEMBER, WE ARE NOT RESPONSABLE IF YOU DAMAGE YOUR EQUIPMENT!!
if you're not pratics, ask help to a friends or other that he is more pratics with soldering and assembling.
ITALIANO
Molti lettori cd forniscono un segnale d'uscita troppo elevato che manda in saturazione gli ingressi della djconsole MK2. Il riusultato finale è che avremo un uscita sporca e distorta.
Per risolvere il problema basta costruirsi un attenuatore di segnale.
Di seguito vi elenco i componenti necessari:
-4 trimmers valore 4,7K(meglio se multigiri)
-1 metro di cavo schermato per bf
-una basetta multifori
La basetta multifori la si puo impiegare per saldare i trimmers per dare una struttura più solida all' assemblaggio.
Il wattaggio non e' importante i normalisimi trimmere sono sufficiente per sopportare le potenze in gioco in quanto si tratta di segnale debole.
RICORDA CHE NON CI RITENIAMO RESPONSABILI PER EVENTUALI DANNI ALLA TUA ATTREZZATURA
Il circuito è molto semplice ma se hai poca esperienza nell' assemblaggio e saldatura consigliamo di rivolgervi a mani piu' esperte.