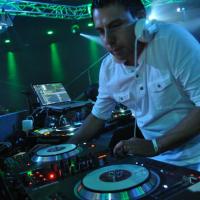 #1 DJ FROM MADISON WISCONSIN SPIN AT LAGARTO NIGHT CLUB EVERY ,FRIDAY,SATURDAY.REGGEATON DURANGUENSE SALSA NORTENAS BACHATA CUMBIA MERENGUE PUNTA DISCO HIP HOP AND MORE .

Name: Pablo D.
Nationality: Buenos Aires, Argentina
How did you started as a DJ?
Since I was very young I've liked to play music at parties.


How did you choose the name of DJ Frecuencia Infinita? (Endless Frequency DJ)?


Well, I heard it once when I went for vacations to visit my grandparenths. It was the name of a local radio station in San Miguel de Tucuman Argentina.


How long have you been working as DJ?
Since I can remember but professionally since the year
1992.


what is your favorite type of music?


To be honest, I do not have a specific criteria to let you know what I like, I can only tell you by listening music whether I like it or not, but I am very open to all music genres.

How do you keep updated in the Latin Music you play?
I listen to different radio stations from all around the world via internet and I also keep in touch with the different DJ around U.S.



How long have you been living in Madison?


I have been here 12 years. I have special people in my life two wonderful children, Jaqueline and Federico, here in town are also my mom , martha my love,my sister Soledad, my aunt Claudia, el Piru y Candela,dj hermilo and all my friends y todos los demas que no me alcansa para ponerlos a todos muchas muchas gracias por todo su apoyo .....



Do you want to tell something to the people who read this site?


Yes. I want to say from the bottom of my heart to the people who has supported me and attend all my events without all of you,DJ Frecuencia Infinita would not exist. Thanks also to my parents, martha and my children. thanks for all your support since the beginning...muchisimas gracias a todos thanks to all ......