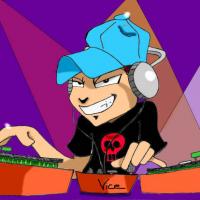 Mi chiamo Christian e vengo da Napoli ho incominciato a muovere i primi passi in questo mondo all'Età di 8 anni con il programma più famoso al mondo virtual dj 3.0 poi successivamente, ho avuto una consolle, la hercules mp3 e poi ancora dopo (qualche anno fa) ho avuto la hercules stell con una scheda audio e una cuffia e due belle casse questa è una passione che va da tempo avanti oramai... e spero che tra qualche anno
potrò migliorare la mia "fornitura" con qualcosa un pò più professionale saluti da Christian a tutti i miei amici di virtual dj.

My name is Christian and I'm from Naples, I began to take its first steps into this world at the age of 8 years with the world's most popular program, virtual dj 3.0, then later, I had a console, hercules mp3 and then again after (a few years ago) I had the hercules stell with a sound card and headset and two beautiful cases this is a passion that goes on for some time now ... I hope that in a few years
I will improve my "supply" with something a little more professional by Christian greetings to all my friends virtual dj.

Mon nom est Christian et je suis de Naples, j'ai commencé à faire ses premiers pas dans ce monde à l'âge de 8 ans avec le programme le plus populaire au monde, virtual dj 3.0, puis, plus tard, j'ai eu une console, hercules mp3 et puis de nouveau après (un peu ans), j'ai eu l'stell hercules avec une carte son et un casque et deux cas belles c'est une passion qui se passe depuis quelque temps déjà ... J'espère que dans quelques années
Je vais améliorer mon "alimentation" avec quelque chose d'un peu plus professionnelle par des salutations chrétiennes à tous mes amis virtual dj.