Forum: Addons
By default there is no EQ or auto ducking for the mic in VDJ - but, because VDJ is super configurable, it is possible to add mic EQ and ducking.

The easiest way of adding EQ is to route the mic channel through a spare VDJ deck (and hence a VDJ mixer channel). Ducking can be done via VDJ script. A forum search should help you there.
---
Posted Wed 18 Oct 17 @ 7:09 pm
I will do some searching on that, thank you!
---
Posted Wed 18 Oct 17 @ 7:13 pm
Looks way to complicated... I guess for my radio show I'll have to use SAM. I'll have to learn how to code first before I use VDJ...lol
---
Posted Wed 18 Oct 17 @ 7:35 pm
I want to hook 3 mics up via Steinberg UR44

In audio config I can route MIC to input 1 (mono) and input 2 (mono) etc

In virtualdj how can I control the individual microphones from the skin?

(The audio interface comes with an onscreen mixer but I would like to have fader and FX control from within VirtualDJ. I understand we could route microphones to a deck in previous builds so I thought more than one mic was possible but now this has changed)

Can anyone help who has managed 2 or more mics please?

---
Posted Wed 13 Jun 18 @ 12:05 am
Hmmm, you might need to use some custom buttons and knobs, to give you control over on/off and volume for mic 2 and 3.

I don't think there are any ready made skins that have facilities for more than one mic.
---
Posted Wed 13 Jun 18 @ 5:39 pm
There is only 1 Mic slot in VirtualDJ. No matter how many "mic" lines you add in Audio setup, there will be only 1 mic_volume, 1 on/off and 1 Mic FX slot.
If you want individual controls, your only chance is to use linein X and assign them to spare decks.

BTW, lot of posts in this topic are not directly related to the Pads page, so please post in General/Technical forums regarding Mic inputs and controls if not related to the mIC FX Pads page.
---
Posted Wed 13 Jun 18 @ 5:43 pm


What consoles support this plug-in? I have a numark NV.
---
Posted Fri 17 Aug 18 @ 11:31 pm
Its working fine for me with windows 10 but iam trying windows 11 now and it says its incompatible :(
anyone having the same problem?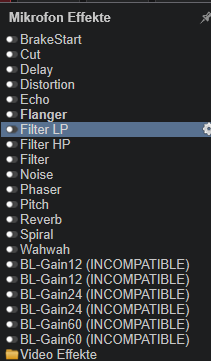 ---
Posted Fri 08 Apr 22 @ 12:26 pm
What is BL-Gain ? Is it win 11 ready?
---
Posted Fri 08 Apr 22 @ 4:11 pm
BL-Gain is the MIC FX
its probably not win 11 ready thats why its not working for me^^
---
Posted Fri 08 Apr 22 @ 8:45 pm