Forum: Addons
Discussion about SilverSleek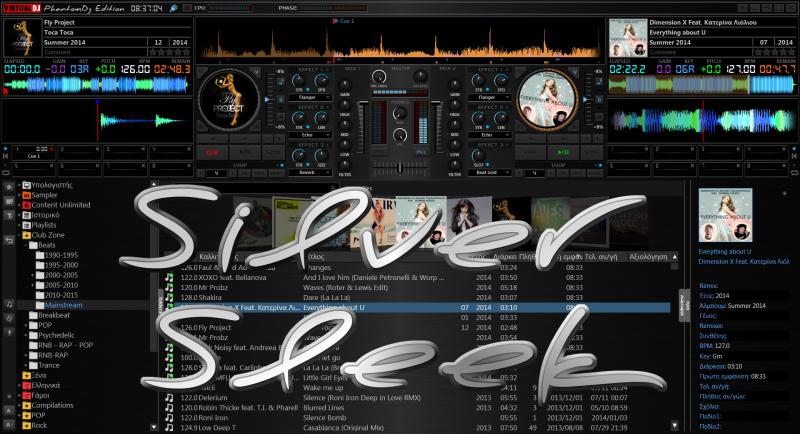 ---
Posted Wed 06 Aug 14 @ 1:27 am
Great job once again! Thanks George for sharing withus This perfect skin!
---
Posted Mon 11 Aug 14 @ 4:53 pm
Nice job on the CUE's # NICE
---
Posted Wed 13 Aug 14 @ 9:30 pm
Great Skin thx for this work! But how can i make the Virtual DJ Logo smaler?
On my MacBook 13" the logo is too big, on my windows machine there is ok but not on my mac ;(

can someone help me?

BIG THX
---
Posted Sun 26 Oct 14 @ 5:51 am
Ooops. I forgot about that bug. I will fix it within the next 24 hours.
Thank you!
---
Posted Sun 26 Oct 14 @ 3:15 pm
Updated on version 1.0.1 Beta.

This should fix the big logo on MAC side.
---
Posted Mon 27 Oct 14 @ 5:57 am
Καλησπερα George. Τι αλλαγες εχει το update αυτο και επισης μια απορια. Το Browser-maximizedmode-full or mini decks τι ακριβως ειναι? υποστηριζει το skin full browser και δεν το εχω βρει?
---
Posted Mon 27 Oct 14 @ 2:10 pm
PhantomDeejay wrote :

Updated on version 1.0.1 Beta.

This should fix the big logo on MAC side.



perfect, it works, BIG THX!!!!!!!! :)
---
Posted Mon 27 Oct 14 @ 2:22 pm
I looks good, will try mixing searching and browsing with it and let you know how it feels
---
Posted Sun 16 Nov 14 @ 1:16 am