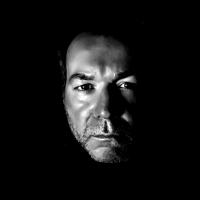 Allstyle DJ since the early 90s.
My passion for music started at the age of 12 and increased constantly since then.
For the last few years i´m focused on videogigs only.
VirtualDJ V7 offers me all that i need, and V8 becomes even more powerful with the new features.
Trying to help other Users by working in the Forum, Ticket + Chat Support and Trade Shows.


Note: Please do not Use the Wall for posting your issues or requests. Please use the forum. I am...
The close Look: DMX LED Operator 4
Mon 28 Apr 14 @ 7:44 am
Kurzes Review über den o.g. DMX Controller der am vergangenen Wochenende seine Feuertaufe bestehen musste.
Der LED Op. 4 ist ein vorprogrammierter DMX Controller der speziell auf die Eurolite LED Bars der KLS Serie ausgerichtet ist, aber wohl auch mit vielen anderen Komponenten, welche über 5 DMX Kanälen verfügen, einsetzbar ist.
Für welche Geräte aus der Eurolite Serie der Controller geeignet ist, könnt der Bedienungsanleitung, die ich am Ende diese Blogs verlinkt habe, entnehmen. (Passt im übrigen auch für die nicht in der Produktübersicht aufgeführte KLS 160).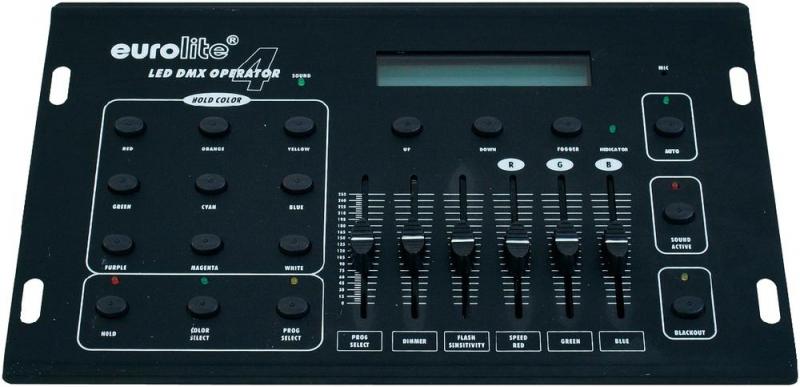 Das Gerät kann über einen zusätzlich erhältlichen Adapterrahmen in jedes 19" Rack eingebaut werden, ist aber auch hervorragend als Tischgerät zu verwenden, da es standartmässig über 4 Gummifüße und eine leichte Neigung von etwa 30 Grad verfügt.
Ausser einem DMX Out und einem Klinkeneingang für die Musiksteuerung, sowie eine Buchse für das mitgelieferte Netzteil hat das Gerät keine weiteren Anschlussmöglichkeiten.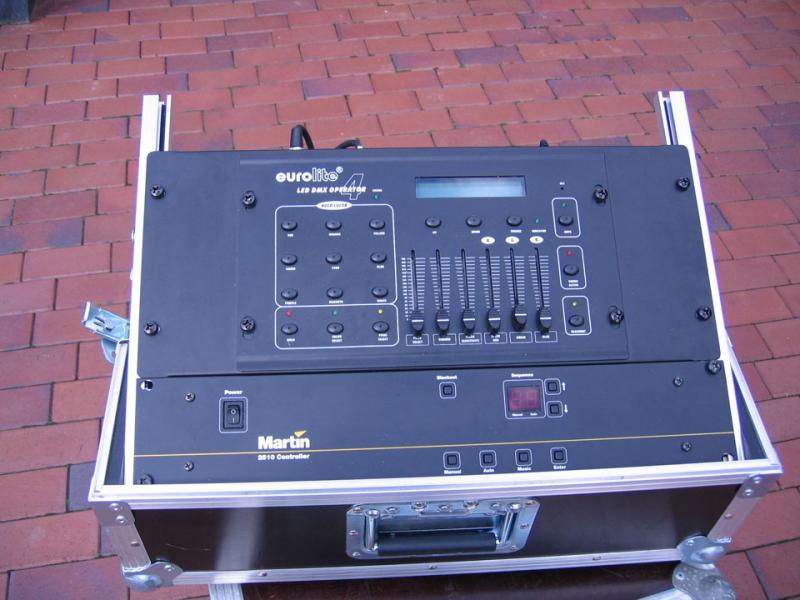 Die Musiksteuerung über das integrierte Mic kann getrost vernachlässigt werden, da es nur sehr schlecht auch auf einen sehr hohen Schallpegel anspricht.

Nun zur Funktion bzw. den Bedienelementen von rechts nach links:
Rechts oben sitzt der Button für den Automatikbetrieb. D.h. alle 10 intergrierten Programme der KLS laufen nacheinander durch. Die Geschwindigkeit kann am Controller über einen Schieberegler eingestellt werden. Button für Musiksteuerung liegt darunter sowie eine Backout Taste. Der LED Operator verfügt über ein beleuchtetes Display, dass das Arbeiten bei schwachen Lichtverhältnissen sehr erleichter. Im mittleren Bereich des Controllers befinden sich zusätzlich noch diverse Schieberegler mit der u.a. die Empfindlichkeit/ Geschwindigkeit, sowie die Helligkeit der LEDs eingestellt werden können.
Ganz links noch die Möglichleit definierte Farben per Knopfdruck direkt anzuspringen, bestimmte Farbkombis über eine Hold Taste einzufrieren, sowie ein Programmknopf, mit dem ebenfalls per Schieberegler alle integrierten Programme der KLS einzeln angefahren und gedimmt werden können. Positiv zu erwähnen bleiben noch die zusätzlichen Regler, mit denen ich der KLS eine
Strobe bzw. Chaser Funktion
entlocken kann.
Es gibt sicher bessere oder leistungsfähigere Controller. Für mich persönlich war ausschlaggebend die vorprogrammierten DMX Einstellungen, die sehr einfache Bedienung, integrierte Funktionalitäten die für mich aussreichen sind und ein alles in allem attraktiver
Einstiegspreis von knapp etwas über 90 Euro.
Zudem ist diese Teil wirklich plug and play
....einstecken und sofort damit arbeiten.
Zudem gibt es auch auf Youtube und bei Google einiges an Video und Infomaterial, sollte der Controller Euer Interesse geweckt haben.
Und hier noch wie Anfangs erwähnt der Link mit der Bedienungsanleitung:
http://www.rh-pro.de/rh_global/ebay//Bedienungsanleitung/STE/LEDOperator4.pdf
Viel Spaß bei Lesen
Rob