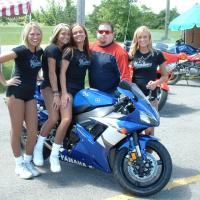 Name: Paul Compton

Stage Name: Paulie C (Fist)

Birthday: September 9, 1976

Years Spinning: 26

Name: Paul Compton

Stage Name: Paulie C (Fist)

Birthday: September 9, 1976

Years Spinning: 26

Favorite Song: "Too many to name"

Favorite Quote: "The one that laughs last, Laughs longest."

Accomplishments:
26 year veteran in the music business, Paul has helped promote Dance music in the North East Louisiana and South West Michigan markets.

Starting his DJing career back in the early 1990's, Paul started DJing School Dances at just 15 years old after learning how to mix on just two tape players. At one of the dances he was discovered by Chuck Redding. Chuck ran a radio show for the area back then and asked Paul if he would come in and lay some tracks down in the studio. After a little practice with some real equipment Paul got it "right" and was asked to come in every Saturday and record a Saturday Night show for KZRZ A few weeks later Paul was "spinning" at Skatetown the local roller rink.

After years of "playing" at Skatetown and KZRZ as well as every school in the area Paul moved on to becoming a Firefighter/Paramedic. While traveling and working for Farrow Amusement Paul could not let music and mixing go. Paul would DJ on some of the more popular rides on really busy nights. On occasion, at some stops, Paul would have people come back every night to hear him mix and some would sometimes wait in the long lines of the rides to ask for his autograph. This is where Paul learned that he had a knack to DJ. It is also where Paul was dubbed DJ FIST due to his clenched fist while mixing as well as a few rough times.

After his dad passed away in 1996 Paul moved to Indianapolis where he could be seen spinning at several night clubs around the city. He also would spin at United Skates Skating Rinks as he could not let go of his fun past.

Soon Paul was married and moved Michigan for his Wife's job. Paul worked as a Paramedic once again before starting his DJ Career back up. There he heard another DJ at a night club and his name was....DJ Fist. Paul became friends with this DJ and developed a new style during this period. Spinning at clubs like Cheek 2 Cheek and The Firehouse Paul was noted for his Tribal Beats derived from his drum line days and seamless flow of current hits. Soon Paul was DJing spots for several Radio Stations across Michigan and Canada. Paul has guest DJed at Clubs in Detroit and Windsor Canada like Rush, "0", Dante's and Reactor as well as other clubs in city's across the U.S..

Paul soon became the house DJ for Wings Stadium for all events from hockey games to concerts even Sesame Street Live with a little inspiration from his son. Paul soon found a new love in DJing and that was for Mobile DJing Weddings. "There is just something about sharing the most special day in two people's lives...." says Paul. Using Curt Wiser as his Agent Paul was able to become known for keeping any party going and giving it that extra little "edge" to ensure a memorable day for any guest.

Paul has six Children that keep him on his toes and thrill his soul. He is with the Love of his life and hopes to keep spinning and "bringing the beats" for years to come.

Thanks for reading this far and sharing the moment...