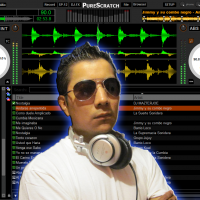 HI EVERYBODY
DJ AZEN HERE YEAHH THAT'S ME
I STARTED D'JING JUST ONE YEAR AGO I'M USING VIRTUALDJ PRO
WITH NUMARK TOTAL CONTROL AND DJIO AUDIO INTERFACE
I LIKE ALL KIND OF MUSIC BUT MY THING IS DANCE,MERENGUE,SONIDERa.RIGTH NOW I'M PLAYING IN FAMILY PARTIES BUT I HOPE TO PLAY IN ALL PARTIES
YOU CAN SEE SOME PICTURES OF MY EQUIPMENT IN MY BLOGS.
ONE MORE THING. ''VIRTUALDJ IT'S THE BEST DJ SOFTWARE''.