Add-On
Downloads this month: 164
Total downloads : 6 232
Popularity: 575
Rating: 4.2

Default Virtual DJ 8 Skin with Browser Zoom
colorpoi
browserzoom
zoom
djtouchdan
poi
color
8.1
Date added: Tue 13 May 14 @ 8:34 am
Last update: Wed 20 Jan 16 @ 5:30 pm
1.3.1
Comments
LE&PLUS&PRO
Downloads this month: 182
Total downloads : 5 194
Popularity: 549
Rating: 4.3

A Big Multifunction Audio Video Skin with big Injog Time and BPM. A big thanks to all my german Beta Members and the great feedback from all Users. For saving your Skin settings read the Skin-Comments - Link on bottom.
Date added: Mon 19 May 14 @ 1:50 pm
Last update: Fri 07 Apr 17 @ 11:13 pm
4.1.4
Comments
No full screen previews
Downloads this month: 322
Total downloads : 4 983
Popularity: 464
Rating: 4.5

Create your own skin choosing from a large modules library. Extract your creation using Skin Builder Extractor
Date added: Thu 24 Nov 16 @ 12:17 am
Last update: Wed 08 Mar 17 @ 11:17 pm
3.0
Comments
LE&PLUS&PRO
Downloads this month: 170
Total downloads : 5 251
Popularity: 435
Rating: 4.2

this skin based on 'Controller by DennYo' and supports VDJ 8.2. It brings new gfx, new additional features and the brand new browser split mode. You are able to show browserparts as sampler, automix, playlist, karaoke.... separatly above the main browser.
8.2
2Deck
4Deck
Video
waitlist
splitmode
Date added: Wed 07 Jan 15 @ 8:27 am
Last update: Fri 07 Apr 17 @ 11:17 pm
3.6
Comments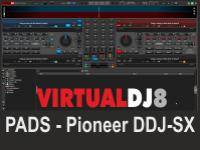 No full screen previews
LE&PLUS&PRO
Downloads this month: 148
Total downloads : 4 182
Popularity: 397
Rating: 4.1

A 4 Decks swap skin for Pioneer DDJ-SX. Offers a 4X2X2 Pads matrix with actions based on the default mapper ,Audio & Video Mode
Date added: Fri 13 Jun 14 @ 11:10 pm
Last update: Fri 13 Jun 14 @ 11:10 pm
2.0
Comments
Downloads this month: 124
Total downloads : 6 267
Popularity: 367
Rating: 4.2

A simplified easy on the eye retro feel skin, with three different view modes: standard, large browser or large waveforms. The waveform mode is optimised for small screens. Enjoy! :-)
VideoDJs
LargeBrowser
LargeWaves
Date added: Thu 18 Sep 14 @ 10:38 pm
Last update: Fri 03 Oct 14 @ 4:27 pm
1.2
Comments