User Manual
CREATE AN ACCOUNT

A VirtualDJ Account is quick and easy to create and can be done either in the software or on the website. To create an account on VirtualDJ.com, please visit: http://www.virtualdj.com/users/create.html

At the bottom of the software Login page, click on the account creation button to begin creating an account. The information provided is for account creation and licensing only; VirtualDJ will never share this data or send you spam.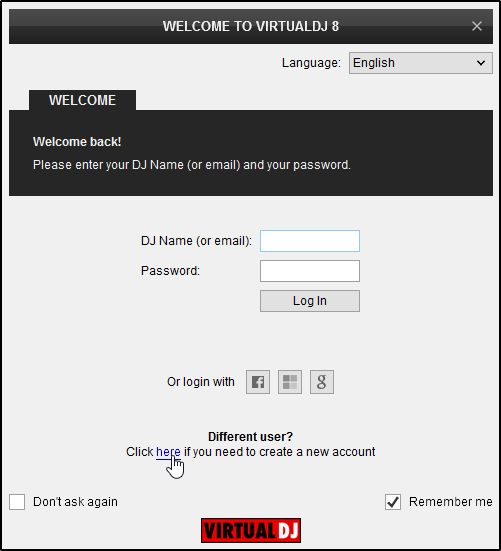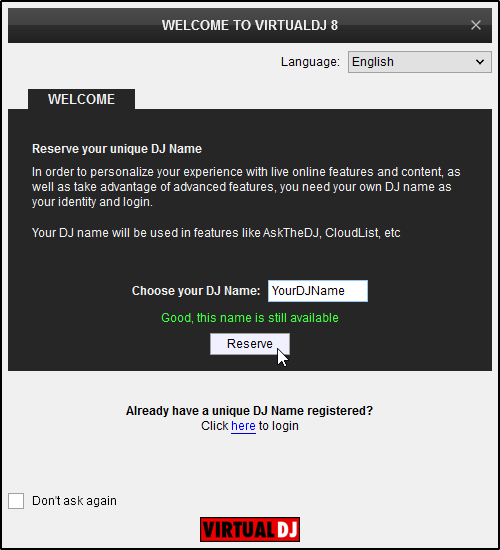 Enter a desired DJ Name (Take note of the highlighted text under the Choose your DJ Name box as you type. This will let you know if your desired username is available.)

Once you have selected a name that you like and is available, click on the Reserve button to continue.

On the next page you have 2 options: You can create the account manually or use a social networking account for instant access.
To finish creating the account manually: Select a password and enter your email address. Once completed click on SEND CODE. VirtualDJ will send a Confirmation Code to the email address you have chosen. Once you received the email and retrieved the Confirmation Code, enter it on the screen and click on Continue to finish the account creation process.

Note: If the confirmation code is not received within a few minutes, check your spam/junk folder of your email client.

To finish creating the account using Social networking: Select from Facebook, Microsoft or Google accounts and click the appropriate button. A web browser will appear asking you to login to the chosen account. Once logged in to the account of choice, VirtualDJ will automatically create your account.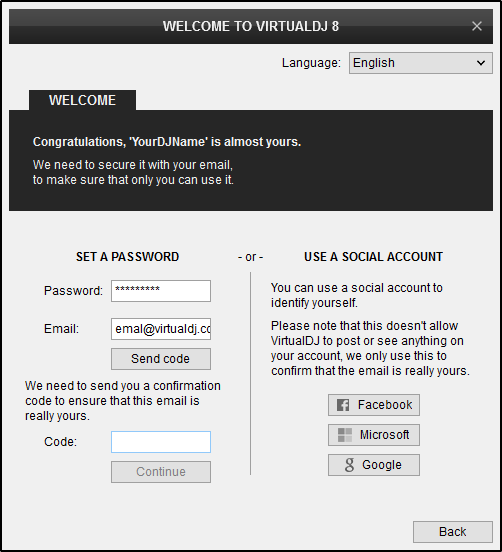 VIDEO
How to create an account in VirtualDJ