User Manual
FILTER FOLDERS
Filter folders dynamically organize a collection of files by applying conditions that automatically filter (search) the database for files that match the criteria outlined.

To get you started, VirtualDJ comes with a few (by default) in the blue folder listed as Filters. These Filters are commonly used and make finding and organizing your music library a whole lot easier.

The default Filter Folders are as follows: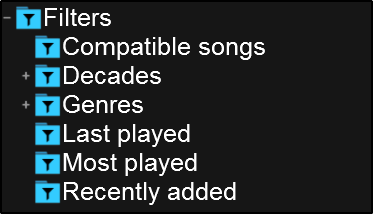 Folder
Filter Behavior
Compatible songs
Displays songs that are compatible with the currently playing active deck that have a difference of 4 BPM or less and 1 key change
Decades
Expanding this folder will show songs grouped by the decade
Genres
Expanding this folder will display songs grouped by their tagged Genre
Last played
Displays the last 50 songs played in VirtualDJ
Most played
Displays your 50 most played songs in VirtualDJ
Recently added
Displays the last 50 songs added to the VirtualDJ database
creating your own filter folders
Click on the Filter Folder button from the Side Toolbar to the left of the Folder List. A pop-up window will be displayed to type a name for the new Filter Folder. Name the folder and click OK.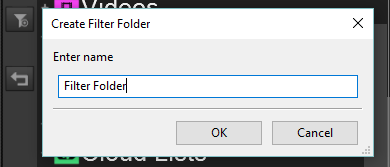 Right after the folder is created, the Filter Folder will appear on the bottom of the
Folder List
and will display the Filter Folder Criteria window. Lists with the available fields and operators are available on the bottom of that window along with some examples, to help with the syntax. Fields and Operators can be clicked on to add them to the filter criteria instead of typing it out. Once a Filter Folder is created, it can be moved by dragging and dropping to a new position.

As the syntax is typed for the filter, the content of the Filter Folder is automatically filled with the files that match the filter criteria in the background.
Filter Folders can be nested inside normal folders, Favorite Folders and Virtual Folders. If the folder has focus (highlighted) when the Filter Folder button is pressed, the folder will nest itself inside that folder. By default, Filter Folders will apply to the entire Database if not nested inside another folder. If a Filter Folder is nested in a folder, it will provide results only from this specific folder and display a Scope Menu to alter this behavior. The scope menu will allow either results from the entire database, the folder itself or from its sub-folders (recursive) depending on the selection made.
Right-click the Filter Folder to reveal it's options menu to Load the content from the folder to Automix, Rename or Delete the folder, Edit the filter criteria, Search with GeniusDJ, and perform batch operations such as Add to Search DB, analyze for BPM etc.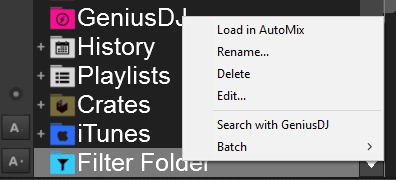 EXAMPLES OF FILTER FOLDER SYNTAX
Filter
Expected result
isscanned=1 (or isscanned=0)
Offers all tracks of Database that have been analyzed (or not yet)
top 100 nbplay
Top 100 tracks based on the Play Count field
top 100 firstseen
Top 100 recently added tracks
bpm>120 and bpm<130
Tracks that have BPM between 120 and 130
year>=1980 and year<1990
Tracks with Year between 1980 and 1990 (80's)
days since lastplay<31
Tracks played the last 30 days (last month)
lastplay=0 (or Play Count=0)
Tracks that never been played
Play Count > 1
Tracks that have been played at least once
type=video (or =video or =karaoke)
Tracks that are Audio (or video or Karaoke)
hascover=1 (or hascover=0)
tracks that have (or not) any Cover
sort by bpm (or sort by bpm invert)
Sort entire database by lowest to highest BPM (or highest to lowest)
More Filter examples are available at
http://www.virtualdj.com/wiki/FilterExamples
Favorite folders