Sou Frank Speedy, membro do time de suporte VirtualDJ em língua portuguesa. Entre em contato, envie uma mensagem particular, ou faça uma postagem no mural público. Por favor use as ferramentas apropriadas para problemas e dúvidas com VirtualDJ. Veja os playlists dos meus sets, e fique ligado no meu blog, onde você pode ver vídeos meus discotecando - transmitindo ao vivo desde 2010.
I am Frank Speedy, member of VirtualDJ Support Team for portuguese speaking users. Contact me by private messages, or posting at the wall. Please use the appropriate tools if you have any issues regarding VirtualDJ. Check my sets, and stay tunned to my blog, where you can see my DJing videos - live streaming since 2010.
Pré-escuta / Mixer externo - uma placa de som dedicada - Behringer BCD-2000/3000
Wed 01 Sep 10 @ 12:16 pm
Olá, bem vindo a mais um tutorial.
Uma recomendação constante em vários de meus tutoriais é a atualização de drivers. Baixe os drivers mais recentes
AQUI
e instale-os. Na data em que este tutorial foi escrito, os drivers mais recentes para BCD-2000 é a versão 1.1.1.0 e para BCD-3000 aversão 1.3.4.
Observe se os drivers são compatíveis com o sistema operacional instalado em sua máquina. Os drivers de BCD-2000 somente são compatíveis com Windows XP 32-bit. Os drivers para BCD-3000 são compatíveis com Windows XP, Vista e 7 32-bit ou 64-bit. Por exemplo, isso significa que se você tiver uma BCD-2000 e Windows 7 na máquina, não funcionará nunca.
A figura abaixo mostra os painéis de controle da BCD-2000 e BCD-3000, como teoricamente deveriam ser ajustados. Observe qua as figuras não exibem as últimas versões dos drivers, somente servem como referência para ajuste.

Para configurar a pré-escuta, abra o VirtualDJ na aba "Config.áudio" do menu "Configurações" e siga conforme a figura abaixo. A figura mostra uma BCD-2000, mas para a BCD-3000 é exatamente igual, só muda a descrição no box. Conecte um cabo RCA na traseira Output 1-2 e mande pro amplificador. Conecte o Headphone no jack frontal ou no superior. Opere conforme explicado no manual do equipamento, mas se você não sabe como usar o mixer do VirtualDJ (que será controlado pela BCD) clique
aqui
.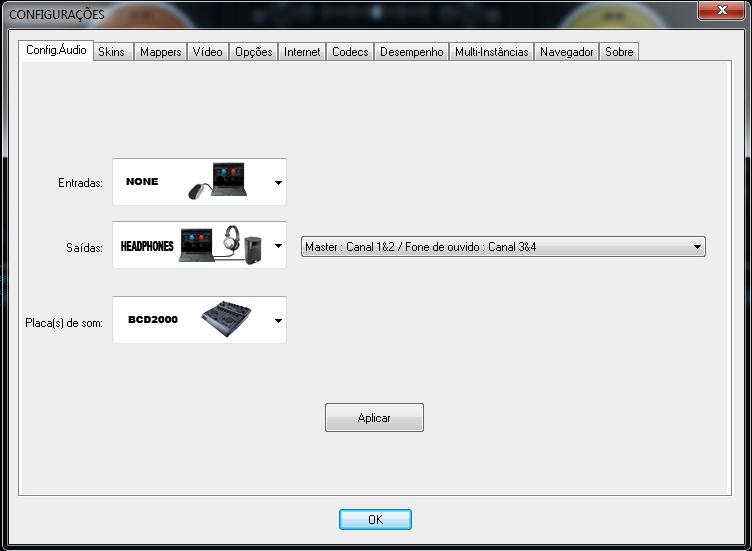 Uma vez que a BCD-2000/3000 tem somente uma saída RCA, não é possível utilizá-la com um mixer externo sem alterar algumas características do equipamento e improvisar ligações (não recomendado).