Forum: VirtualDJ Technical Support


For reporting any bug, questions or comment related to the latest version of VirtualDJ
---
(NOTE: VirtualDJ continuously updated, so many older topic on this forum are most probably already fixed in the current build)

If you need extended support, contact our Support Team.
Forum Guidelines  (*) The moderators hold the rights to move or modify posts in order to keep the discussions clear or to facilitate the search.
Topic: Will the Add-On EQ Meter (Effect) help me adjust the Highs & the Mids in VDJ8 ???

Hello People,

Sometimes, with a few Song Genres or at some Venues, I have Issues with the Highs and the Mids.

I've come to the conclusion that, different Song Genres and Club Equipment, need different EQ Settings. Some venues give you more Bass and others more Highs and Mids (Treble) etc etc. Depending on the Equipment ...

In the AddOns at the Effect Section, there are two different EQ Plugins:

One with 10 Bands -> http://www.virtualdj.com/plugins/index.html?addonid=16704

and one with 30 Bands -> https://www.virtualdj.com/plugins/index.html?category=effects&search=EQ+30

Will these EQ Effects solve this issue ?
and if Yes ... Which one is better for my case ? 10 Bands or 30 Bands ?

How do they Work ? do I Activate through the Effects in VDJ like the Flanger ?

I would appreciate it if somebody could help me out and give me some Info.


---
Posted Wed 03 Jan 18 @ 6:36 pm

EQ10 works properly, EQ 30 doesn't.

It will work and you can save presets for each venue (assuming you are using software mix and not an external mix configuration)

All you do is assign it as a master effect, and you can add an oninit in your controller mapping to enable it by default if you wish. Be aware the smallest movement makes a big difference .... I'm sure Scott said he was going to put in different EQ gain levels but that has never happened.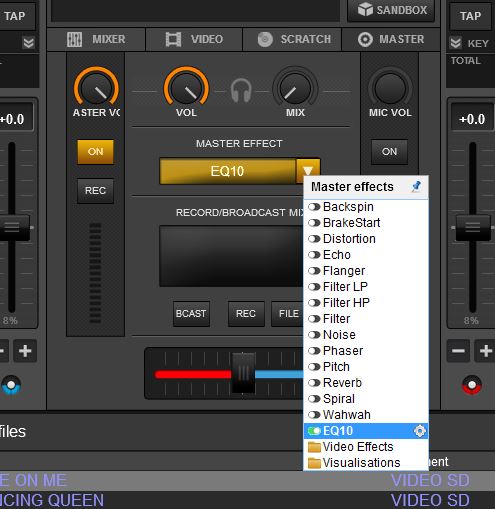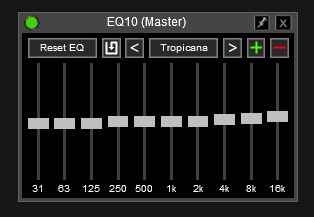 ---
Posted Wed 03 Jan 18 @ 6:48 pm

Don't forget VST plugins. There are plenty of options there, from free EQs to things like this.
---
Posted Wed 03 Jan 18 @ 7:04 pm

Hello kradcliffe, Happy New Year

So, the EQ 10 (Effect) is what I need and works properly.

and it's Activated like a normal Effect, after activation, I choose the Preset that I need.

So all I have to do now, is to install it, try out the presets of the Plugin, to see if Sound-wise it gives me the Sound Quality that I need.

Thank you for your time my friend.


---
Posted Wed 03 Jan 18 @ 7:18 pm

Hello groovindj, Happy New Year

VST Plugins seems to be an interesting solution, when the specific sound file is the Issue.

Till now, I've been using Audacity (Freeware) and Izotope RX 4.

Can you recommend a Freeware or something similar that can fix a song when the Mids, Highs or Bass is not correct or sounds bad in a song.

Thank you for your time in advance.


---
Posted Wed 03 Jan 18 @ 7:28 pm

SpBlackCat wrote :


Can you recommend a Freeware or something similar that can fix a song



No I can't actually. When I find a song that needs help, I edit it with Adobe Audition and use mainly Waves plugins (and my ears) to correct things manually.

I just downloaded the 30 day trial of the fabfilter plugins so I will try those too.


---
Posted Wed 03 Jan 18 @ 7:39 pm

OK, Thanks groovindj
---
Posted Thu 04 Jan 18 @ 10:20 am

I've downloaded and installed the EQ 10 Effect.

I see that there aren't any Presets saved in this Plugin to try out.
I thought that there would be 10 Presets saved ...

So I probably have to make my own presets and save them.

Does anyone know if I can download or find some presets for this Effect ???
or maybe a Tutorial that shows the proper way to use it ?


---
Posted Thu 04 Jan 18 @ 10:27 am

It's not that complicated. The 10 refers to the frequency bands available.

All you do is enable it and get the best sound from it for your venue. Simple as that. No need for presets as they rarely match anyway.
---
Posted Thu 04 Jan 18 @ 10:46 am

here is the free VST EQ i prefer http://www.voxengo.com/product/marvelgeq/ it will allow you to create and save presets as well

make sure you are always running the EQ on your Master FX or you will need to have it on every deck FX to cover everything much easier to just have one instance on the master.
---
Posted Thu 04 Jan 18 @ 11:16 am

kradcliffe wrote :

It's not that complicated. The 10 refers to the frequency bands available.

All you do is enable it and get the best sound from it for your venue. Simple as that. No need for presets as they rarely match anyway.



Thank you kradcliffe


---
Posted Fri 05 Jan 18 @ 6:38 pm

wickedmix wrote :

here is the free VST EQ i prefer

http://www.voxengo.com/product/marvelgeq/

it will allow you to create and save presets as well

make sure you are always running the EQ on your Master FX or you will need to have it on every deck FX to cover everything much easier to just have one instance on the master.



Thank you wickedmix

Sounds interesting and Helpful

I'll check it out
---
Posted Fri 05 Jan 18 @ 6:39 pm