Forum: Wishes and new features


Post here the features you would like to see developed in VirtualDJ in the future.
Topic: Auto-Search in 3rd party music pool (Pulselocker, Groovemusic, Deezer...)

Hi forum / Atomix team, it'd be great if you could select a service other than ContentUnlimited to be the default fall-back resource when searching songs.
At the moment there are these options which enable you to auto-search in ContentUnlimited if VDJ can't find the song you're looking for locally.



This is a little annoying as i like to take advantage of LiveFeedback where with ContentUnlimited you can simply click the song in the bottom bar and it will search it for you in ContentUnlimited (if you have right settings) no matter where you are in the browser. However with other services you must select them first which isn't that great when your browsers is miles long and you don't really want to leave your set playlist.
Regards, Daniel =)
---
Posted Fri 13 Oct 17 @ 9:26 am

+1 for this feature
---
Posted Sat 14 Oct 17 @ 2:32 pm

In the search options you can already select the other catalogs such as Deezer and Pulselocker, is that what you are looking for?
(The dot next to the search area in the browser)
---
Posted Sat 14 Oct 17 @ 11:27 pm

Yes, as stated that already works. I use it all the time: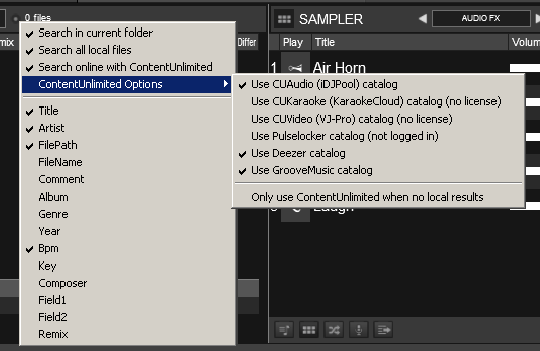 ---
Posted Sun 15 Oct 17 @ 8:42 am