Forum: General Discussion


Discussions about VirtualDJ, and about DJing in general

---
Forum Guidelines
If you need extended support, contact our Support Team.
(*) The moderators hold the rights to move or modify posts in order to keep the discussions clear or to facilitate the search.
Topic: VOXOA M70 HYBRID MIXER

Ok so another thread got me thinking about this mixer again, actually he was using a rebranded version but none the less it's the exact same mixer (http://www.steinigke.de/en/mpn11045060-omnitronic-cmx-2000-2+1-channel-midi-controller.html)

Anyways I would like to know how has this mixer and how's it holding up??

Right now I use a DJM 850 or a Mixars mixer.

But the M70 has always caught my attention because it can do so much plus it has a sound card built in which is always a plus.


So any of you guys across the pond have this?? Give me some real world details, build quality, sound quality and whatever else you think I should know.

Thanks for the time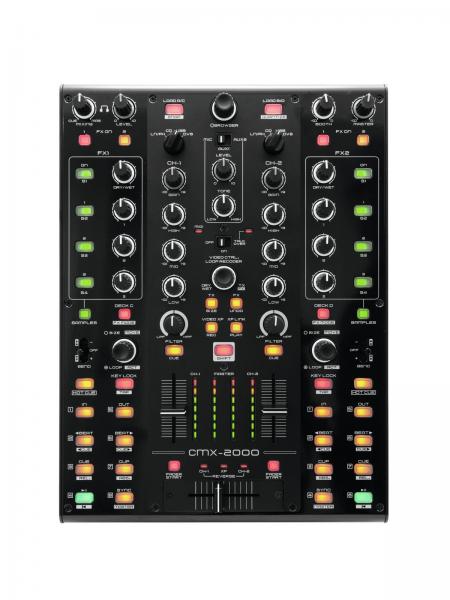 Also can someone help me and translate the pricing from the link I posted above. Also does that shop ship to the USA??


---
Posted Mon 17 Jul 17 @ 2:12 am

Thanks Pach!

Another question, so are you saying if I register as a vendor I can order 1 mixer or is it only bulk sales?? Also will they ship to the US??

Thanks again for the help.
---
Posted Mon 17 Jul 17 @ 1:35 pm

I can find no information to your questions. But shipping to the US should be no problem. They say if your country isn't listed (US is not) you should contact them for est. shipping costs.
---
Posted Mon 17 Jul 17 @ 1:49 pm

Ok cool and Thanks again.

I have actually found both the M70 and CMX-2000 on eBay.

1 is from Germany and the other is located in London. I'm gonna email both and see if they will ship to the US.

I think this mixer is pretty badass and I'm really surprised it isn't talked about more.

Hopefully I can get my hands on one in the near future.
---
Posted Mon 17 Jul 17 @ 1:57 pm

Hi insurgent, what makes you so keen about this mixer ? (Just nice to hear)

---
Posted Mon 17 Jul 17 @ 3:12 pm

The more I look at this mixer, the more I want one too! It's just crammed full of buttons and knobs.
---
Posted Mon 17 Jul 17 @ 3:18 pm

Saw this mixer live a couple of years ago - i think it was at Musik Messe in Frankfurt - and the feeling was like the Stanton DJC4, meaning the buttons and faders looked and felt the same.
---
Posted Mon 17 Jul 17 @ 3:51 pm

MrJackson2014 wrote :

Hi insurgent, what makes you so keen about this mixer ? (Just nice to hear)




Well this thing is packed with pretty much every control I can think and it doesn't look to cluttered. I mean there's even video fx controls.

And the set of paddles for the pitch bend is another nice touch, lol!

It's like a Pioneer DJM T1 on crack ;-p

@Bob, the faders can be replaced with an innofader so I'm fine with that. As for the buttons, well I'd rather have pads but the DJC4 I had (sold it a while back) is still in use to this day and no problems with any of them yet.


---
Posted Mon 17 Jul 17 @ 3:59 pm

Here's the specs and I'm pretty sure I'll be getting one from London (need to sell this Mixars though ;-p )

2-channel DJ mixer/MIDI controller bundled with Virtual DJ and One DJ
Optimized layout for Virtual DJ and Traktor PRO 2 - Virtual DJ 7 LE voucher included
Comes with free voucher for One DJ Start Edition
Traktor PRO 2 and Serato Scratch Live mappings available with full support for scratch and sample decks
Flexibly combines stand-alone mixing of analog sources with MIDI control for DJ software
Built-in DVS audio system for direct use of timecode systems with vinyl or CD in Virtual DJ and other open applications via USB
2 input channels with routing facility for analog inputs and MIDI decks as desired
Full-fledged MIDI sections with 2 layers for 4-deck control
Perfect MIDI control for file browsing, transportation, hot cues, samples, sample recorder, loops, effects, pitch und video transitions
Advanced setup options for scratch DJs: crossfader and channel faders with adjustable curve and reverse selectors
Built-in USB sound card 4 IN/4 OUT
Supports Mac OSX, Windows XP, Vista, 7
Professional-grade metal chassis with replaceable crossfader (45 mm)
2 line and 2 line/phono RCA inputs for connecting CD players, turntables and other external hardware
2 AUX inputs (3.5 mm/6.3 mm jack) connect MP3 players and tablets
Mic input (XLR/6.3 mm jack) with tone control and talkover
2 master outputs (XLR/RCA) for PA applications
Booth output (RCA), independently adjustable
3.5 mm/6.3 mm jack dual headphones output with cue mix control
Bright color-coded LED buttons provide optimal visual feedback while triggering loops, samples, effects and cue points
User-definable LED modes for Serato Scratch Live
Dual-function audio/video crossfader for video performances within Virtual DJ
3-band EQ (high, mid, low) and HP/LP filter per channel
Mixer section switchable between analog mode and MIDI mode
File selector encoder and 2 load buttons for mouseless music library control
8 Hot Cue buttons per channel
Auto Loop function with Beat Jump (Loop Cut), manual Loop In/Out buttons
FX/sampler units with 4 parameter controls and 4 buttons per channel
Various controls for GUI, mixer and video
Shift button for various dual-button operations
Separate VU meters for master and PFL signal
Crossfader with faderstart function for compatible CD players
Compatible to any MIDI-controlled DJ software including Serato Scratch Live, Traktor, Ableton Live
All MIDI control elements can be edited and freely assigned
ASIO drivers with minimum latency and high-quality audio characteristics available for download (PC)
---
Posted Mon 17 Jul 17 @ 7:56 pm

the SOUND INSURGENT wrote :

Comes with free voucher for One DJ Start Edition



That's not much use! One DJ is no more.


---
Posted Mon 17 Jul 17 @ 8:15 pm

Lmao!! Yeah I won't be needing either one.

But I'm pretty excited to get my hands on this thing, let's just hope it last, lol!
---
Posted Mon 17 Jul 17 @ 8:35 pm

Triple X rated has had one of the m70 for a few years now.
---
Posted Mon 17 Jul 17 @ 9:12 pm

locodog wrote :

Triple X rated has had one of the m70 for a few years now.


Had dont have it anymore...but it was a great mixer. Will need an Innofader. sold it before the 8.2 update so never used it with pads.

---
Posted Mon 17 Jul 17 @ 9:27 pm

Ahh nevermind, I miss read.

How was the build quality??
---
Posted Mon 17 Jul 17 @ 10:29 pm

Its solid, The firmware was kinda counter productive.. had a hell of a time with mapping. But locodog is a genius. I thinkit was how the midi was designed.
---
Posted Mon 17 Jul 17 @ 10:52 pm

Word!

As for the mapping I'm not one to really change to much but glad to hear it was a solid mixer.

Why did you sell it though?
---
Posted Mon 17 Jul 17 @ 11:00 pm

the SOUND INSURGENT wrote :

Word!

As for the mapping I'm not one to really change to much but glad to hear it was a solid mixer.

Why did you sell it though?



Had a stroke needed the cash..only reason, if i can find another i would buy it
---
Posted Sun 23 Jul 17 @ 4:56 am