Forum: Old versions


For older version, like VirtualDJ 7.
---


NOTE: VirtualDJ 7 is not maintained anymore.
Topic: Headphone output not working on my Denon MC6000 MK2 ---> VDJ 8 need help ASAP

I have been using the Denon MC6000MK2 mixer for a while with VDJ 8 and it has been working great. But I booted it up today to prep a gig I have Tomorrow and I have no headphone... non... I went to troubleshoot it but all I can find is stuff from VDJ 7.... not much help...
the rest of the unit is still playing and mixing fine so i figure i must just have something configured wrong... any and all help would be appreciated
---
Posted Thu 02 Apr 15 @ 7:12 pm

Show us your audio config
---
Posted Fri 03 Apr 15 @ 12:23 am

locodog wrote :

Show us your audio config



ok, here we go.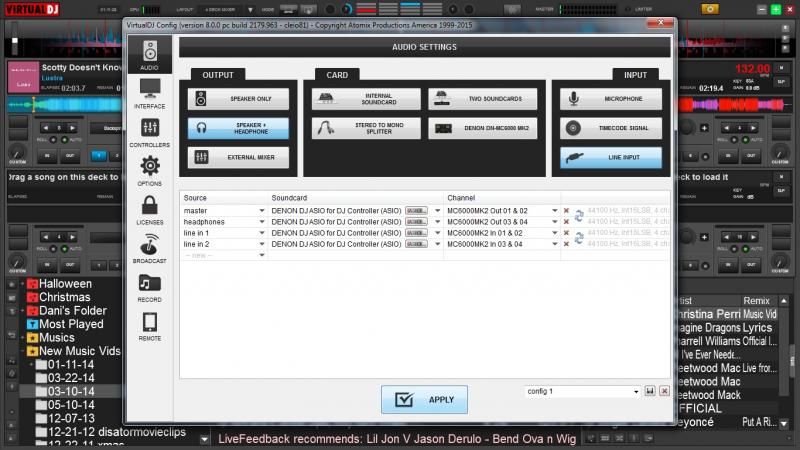 ---
Posted Fri 03 Apr 15 @ 1:15 am

Your audio config is correct
Please check on the controller itself the position of the headphone mix slider (it's right next to the headphones volume slider)

Other than that check if headphones work fine with analog inputs
---
Posted Fri 03 Apr 15 @ 5:43 am

cleio81 wrote :
I have been using the Denon MC6000MK2 mixer for a while with VDJ 8 and it has been working great. But I booted it up today to prep a gig I have Tomorrow and I have no headphone... non... I went to troubleshoot it but all I can find is stuff from VDJ 7.... not much help...
the rest of the unit is still playing and mixing fine so i figure i must just have something configured wrong... any and all help would be appreciated
---
Posted Mon 10 Dec 18 @ 8:49 am