Forum: General Discussion


Discussions about VirtualDJ, and about DJing in general

---
Forum Guidelines
If you need extended support, contact our Support Team.
(*) The moderators hold the rights to move or modify posts in order to keep the discussions clear or to facilitate the search.

iv been adding info to all my tracks bit by bit over the last few months in vdj. mostly to the comments section
and the genere and the rating so its easyer to find the kind of tracks i want. i have over 2000 tracks in the one folder
so it can be hard to remember what a track is just by the name.

what i want to do now is transfer all this info to the audio files them self. so i get the same info when i look at them in windows explorer.
is there any way to do this automatically as i dont want to have to copy and paste the info 1 file at a time?????
---
Posted Sat 10 Nov 12 @ 7:36 pm
---
Posted Sat 10 Nov 12 @ 7:51 pm

thanks,
it looks just the ticket to do what i need.

but after i installed it and ran the program i keep getting this error: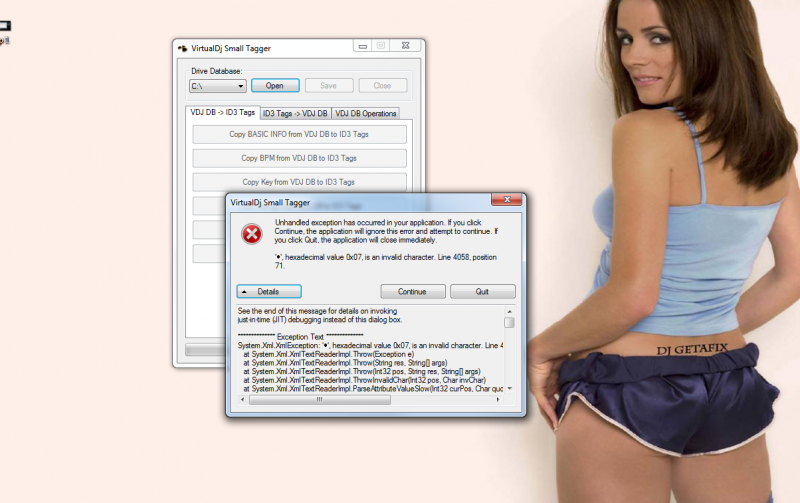 iv ran it on both my desktop and laptop with the same result on each.
both computers have the same files in the same folders with the same file paths.

any ideas what may be wrong please?
---
Posted Sat 10 Nov 12 @ 9:56 pm

thanks loads for the hard work put into this.
it worked great on the general info and the bpm but didnt work for the ratings and comments.
even so it has saved me a massive amount of work and for that i am very grateful to you.
cheers

jason ;)
---
Posted Sun 11 Nov 12 @ 12:45 am

This tool is Just amazing, thanks a lot....
---
Posted Fri 01 Nov 13 @ 10:55 am

+1

I've used it quite a few times,...
Nice tool ;)
---
Posted Sat 02 Nov 13 @ 9:06 am